When you think of compliance, what's your initial reaction? For most leaders and teams, compliance is synonymous with complex and time-consuming procedures, mixed in with a dash of anxiety.
More often than not, organizations view it as a necessary evil to keep clients happy and cyber threats at bay. Even then, it almost always comes at the cost of your most valuable resources and sanity. Note here that we said almost always, which hints that there is an easier way to get (and stay) compliant without succumbing to the everyday challenges and pitfalls most organizations suffer from in their journey toward compliance, but we'll get to that a bit later.
The importance of compliance in today's business landscape
Regarding regulatory compliance, its importance is a no-brainer – it's the law. However, as with regulatory security frameworks and additional security standards alike, the importance of compliance goes far beyond the compliance jargon for "because we said so."
Whether you're working towards becoming (or staying) HIPAA, ISO 27001, SOC 2, or PCI DSS compliant, they all revolve around one core goal; protecting critical data against a growing threat landscape. And in the event of a data breach or cyberattack, compliance with your security framework acts as proof of due diligence, often protecting your organization from severe fines, penalties, and in some cases – civil lawsuits.
From a business growth perspective, compliance also carries significant importance. Not only are clients more likely to do business with organizations they trust, but upholding a solid security posture has become a prerequisite for modern-day business practices. Cybersecurity practices among vendors are becoming an expectation, as 44% of firms say they are asked for proof of cybersecurity as part of a request for proposal (RFP).
However, just because something is important doesn't necessarily mean it's easy.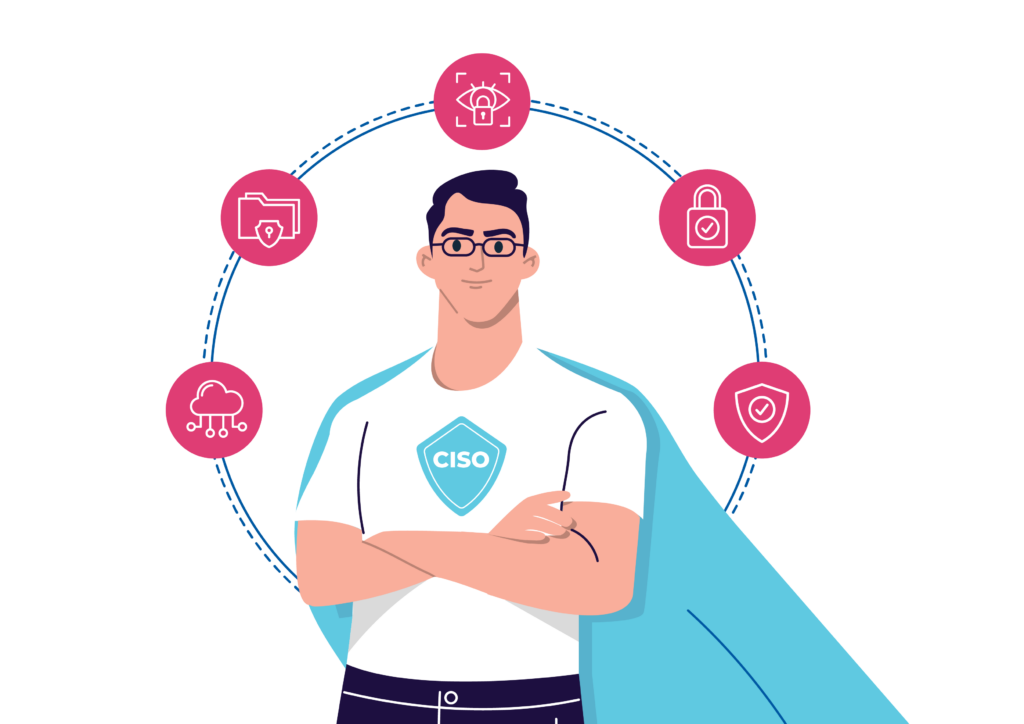 Top challenges faced by compliance leaders and teams
No need to sugarcoat it; compliance isn't always pretty (or easy), and without the right tool (hint hint), the challenges paired with staying compliant often feel as if they outweigh the benefits and importance of getting compliant. So, is compliance really that challenging, or are you settling for sub-standard processes that could do more harm than good? Here's our look at leaders' and teams' top compliance challenges.
However, remember that just because they're common doesn't mean they're unavoidable.
A growing threat landscape
Security compliance is increasingly challenging in the face of the rapid expansion of connected devices. The threat landscape grows more complex by the day, along with the number of devices employees use to access your company's network. Organizations can't afford a reactive approach to information security and compliance and often have to navigate threats from all angles, especially when they're a cloud service provider.
Resource-intensive manual processes
Managing complex compliance requirements via spreadsheets and shared files probably carried some significance in the past. Still, in today's ever-evolving compliance landscape, it simply can't keep up. In a sea of compliance requirements, successful risk management highly depends on consistent tracking, continuous and accurate compliance, highlighting risks, and effectively remediating any areas of exposure. Doing this manually is not only exhausting but also super risky – as simple as that.
Manual compliance is prone to human error that could have otherwise been avoided. In addition, it hinders critical members of your team who are so focused on catching up with compliance that critical business objectives start to play second fiddle.
Compliance costs
And no, this time, we're not talking about the reputational and economic cost of non-compliance. However, you'd have to consider the significant fees and penalties involved with non-compliance. Budget constraints are another significant challenge that many businesses face concerning compliance. One of the reasons compliance costs seem to be denting the bottom line is compliance management is often approached from a departmental perspective rather than an enterprise-level viewpoint. As a result, many processes, systems, resources, and tools rely on a fragmented approach across departments.
Little control visibility
When it comes to compliance, you're either 100% compliant or not at all. That being said, spotting areas of exposure or highlighting risks that could impact your compliance is nearly impossible without an integrated view of all compliance-related activities. As a result, compliance leaders and teams are challenged when managing the efficacy of their security controls, making it easy for risks to slip through the cracks undetected or unaddressed.
Insufficient security awareness training
Your employees are still (and always will be) your first line of defense. Although conducting regular security awareness training (SAT) programs is mandatory for most security frameworks, many organizations have little means to assess how practical and effective the SAT will be. Sadly, not all security awareness programs live up to expectations. Many offer a compliance solution but fail to test your employees' comprehension of the covered topics or ability to apply their knowledge to real-world scenarios.
Ultimately, the most significant challenge is that it is an ongoing process that can't ever be put on the back burner. However, that doesn't mean it has to overshadow all other business objectives. So, how do organizations stay compliant (some 90% quicker) when faced with the challenges mentioned above?
Here's how compliance can be a walk in the (very secure and well-regulated) park.
Overcoming compliance challenges with automation
To best navigate compliance challenges, organizations must first have a baseline understanding of the dos and don'ts of effective compliance management.
However, becoming a subject matter expert on each compliance framework isn't a scalable solution, especially regarding the ever-changing nature of compliance, stretched teams, and complex requirements within each framework. So then, how do organizations manage to stay compliant, manage risks, scale their business, ace audits, train employees and update policies in one fell swoop?
Cue compliance management automation.
By implementing compliance automation, businesses can streamline their compliance journey and meet all their obligations in one central place, including workflows, risk assessments, control evaluations, testing, staff security awareness training, and corrective actions. Yet, there is still a common misconception that compliance automation tools are reserved for larger enterprises. This is far from the case, and proven when considering how most startups are getting compliant faster with automation.
Ready to see how automation can transform your compliance management? Make sure that this article is the last time you'll have to hear about compliance challenges and discover the better (and easier side) of compliance with Scytale.
We're ready when you are.